About Archangel Authentics
Your favorite destination for all things Sneakers, Streetwear, Designer Fashion, Watches, and more.
Always authenticated by truly authentic enthusiast experts.
Authentic Goods

Stay true to yourself with peace of mind knowing that every item is inspected for quality and authenticity.

Authentic People

Founded and built upon true appreciation for the cultures and community brought together by a shared love for fashion.
Mission Statement
We strive to share our passion, knowledge, and love for all things fashion by providing like-minded individuals with a trustworthy shopping experience. Our goal is to help people express their authentic self while providing unbeatable service and value.
Values
Authenticity | Service | Education | Community | Passion | Value | Transparency
Company Story
Founder, Michel Asperas, started his sneaker collecting journey back in 2011 when he fell in love with the Nike Air Max 90. He soon turned his passion for sneakers into the first company, Archangel Kicks, in June 2013, after he had been restoring, creating and selling custom shoes for about a year (most notably the 'Galaxy' Vans).
Michel then worked tirelessly to produce a wide range of hand-done custom sneakers for the next several years. As time progressed, Archangel Kicks started to build up an inventory of various sneaker releases for sale as well. Michel would travel to different Sneaker Shows to share and sell his custom shoes, clothing, and sought-after sneakers.
Shortly after moving from Georgia to Texas to attend the McCombs School of Business at The University of Texas at Austin, Michel rebranded a new company, Archangel Hype, in 2018. The new company would pivot to strictly product sales. The "Kicks" name was changed to "Hype" as inventory began to include popular Streetwear brand apparel and accessories.
Fast forward to June 2023, 10 years since the official launch of Archangel Kicks. The new company, Archangel Authentics, aims to provide a limitless future for the continued growth and improvement for the company. While we still maintain heavy roots in the world of sneakers and streetwear, Archangel Authentics now expands into the worlds of high fashion, vintage designer goods, luxury watches, and more.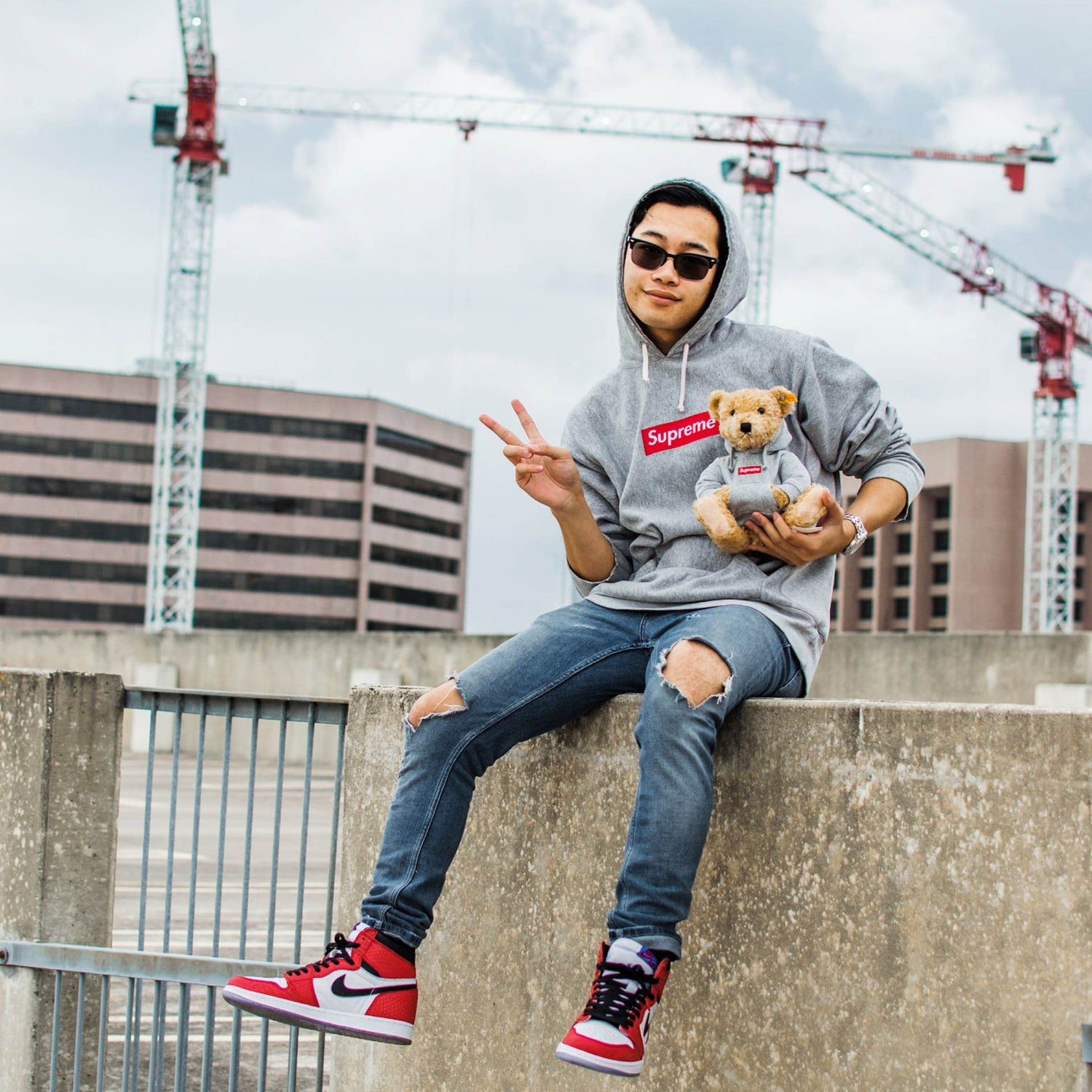 Meet the Founder
Hi, I'm Michel.
My passion for all things fashion started back in middle school with the Nike Air Max 90 Infrared. My journey as a "Sneakerhead" eventually evolved into my interest in streetwear. I became obsessed with brands such as Supreme and found myself frantically copping the latest drops.
In college, I discovered the world of Watch Collecting. I always wore a watch since I was young, but viewed them more as tools to ensure I was punctual. But then, as I learned more about the art of watchmaking and the amazing history behind it, I fell in love with horology and the watch community.
As my passion matured and expanded, I found myself appreciating more classic design houses such as Louis Vuitton. Thus, my interest in luxury brands emerged as I learned more about their prestigious history and quality craftsmanship.
I really appreciate how fashion allows me to express myself and connect with like-minded enthusiasts. I'm passionate about helping others experience a feeling of confidence and expression to elevate their self-love.
Random Fun Facts:
- I also really love music. I started drumming at age five, and went on to learn guitar, ukulele, piano, and music production. I also love to dance and sing.
- My first Air Jordan was the 2012 Military Blue 4s.
- My favorite watch of all time is the Audemars Piguet Royal Oak.
ARCHANGEL EVOLUTION
THROUGH THE YEARS
Let's travel back in time to the small beginnings of the company. Below are some fun and notable events that have taken place since the early days.
Presenting above, the Archangel Kicks studio. This is where the magic happened. Custom shoes, clothing, and restorations all took place in here. Michel began with hand painted customs, then moving on to add airbrush techniques, then even hand-stitched custom sneakers. There were many trials and errors in this studio, but it was all part of the learning experience and the grind.
The photo above is an old photo of the ArchangelKicks.Bigcartel.com website. While it wasn't much (and surely a 'unique' layout and color theme), it was something Michel was proud of. As a 14-year-old, it was a nice place to upload and share his new custom creations and inventory.
Eventually the website started to feature more products from shoes, hats, and custom printed socks. 
Here's the original Archangel Kicks logo banner. It was put together through Microsoft Powerpoint. The wings were added because of the Archangel name connection. The "AA" logo in the middle was actually inspired by how Michel would sign his artwork/customs. The two "A"s side-by-side represented his middle and last initials, while also forming an "M" shape, representing "Michel."
If you are reading this and you have one of these early Archangel Kicks business cards, please contact us with a photo of it in hand. You'll receive a voucher for your OG support. 
Above, we see Michel Asperas at the first-ever SneakerCon in Atlanta on January 5th, 2013. A couple of small duffle bags and a backpack accounted for less than 10 pairs of shoes. Michel is holding a pair of custom "Galaxy" Vans that he made. This custom galactic sneaker became the catalyst that brought him to start doing custom sneakers. He took the same galaxy theme and applied it onto a pair of Lebron 9 Elites shown in the photo as well. The other sneakers are the Air Jordan 6 Olympic 2012, Air Max 90 "Clerk Pack", Air Jordan 4 "Bred" 2012, and the Lebron 10 "Lava". 
This was taken at the Atlanta DunkXChange on May 25, 2013. We see Michel holding up another custom sneaker he made, the Jordan 4 "Yeezy Blink" custom that was ever so popular during this era of sneaker culture. Before entering the event, the staff suddenly told Michel that he had to pay per sneaker to bring in, which was and still is unheard of. A negotiation was settled and 13 pairs of sneakers were brought in. Double Digits! A great memory from this event was when an attendee agreed to trade a pair of original 1996 Air Jordan 11 "Bred" for a pair of the Nike Air Force 1 Lunar "Area 72", seen in the lower left of the photo. 
SneakerCon Atlanta Pt. 2. The sneaker event came back to ATL for the 2nd time in 2013, this time during the Summer on June 15. Michel had just gotten out of a week-long JROTC Military Base Camp Session the morning of, and went straight to the event. We see him here wearing his custom-made t-shirt to match his custom Lebron 9 "Un-Freegum" he had on feet. The top "pick-up" from the event was the Jordan 1 "Old Love/ New Love" Pack for $260, seen in the bottom left corner.
Michel's custom "Un-Freegum" Lebron 9s were later featured on SneakerNews.com. Every black detail on the upper was hand-painted and took him a span of weeks to complete. The total work time on this custom pair was around 40 hours.
This event was the first-ever Kixfair show in Atlanta. Michel was unable to attend due to a Marching Band Competition. This setup featured an array of his custom sneakers including the famous Lebron 9 "Un-Freegum", Jordan 3 "Threezy", Jordan 3 "Red October", and the Lebron 9 Elite "Big-Bang". Also shown is a collection of custom Nike socks. Michel was creating custom-print socks before the era of Stance socks and other big-brand graphic sock companies. That line of the business did not last very long but was still a fun venture.
KixFair, but with Michel and a friend this time. This event took place on April 26, 2014 at the Georgia State Sports Arena. The company finally got an official banner! Archangel Kicks teamed up with a good friend, Carolina Soles and shared a vendor table at the event. Here we can see Michel's collection of "Nike Air" Retro 3s and 4 to the left, some of his custom paintings, and his custom "Tiffany" Air Jordan 4s. It was Michel's first time as an official vendor at a sneaker event and became the 1st of many more to come!
This Sneaker Event was very unique because Michel was participating in a Live Sneaker customization contest judged by Mache Customs and sponsored by Angelus Paint. This was at Kixfair at the Georgia World Congress Center on September 13, 2014. Michel's best-friend Nathaniel was working the vendor table setup while Michel was painting away during the 6-hour time frame. Surprisingly, Michel did not know he was entered in the contest until the day before when he was contacted by the event staff. He frantically packed up his paints, brushes, and tools and headed to the event with a winning attitude. The theme for the custom was "Atlanta", so Michel mocked up a "What the Atlanta" design during the car ride there. The design, featuring over a dozen Atlanta icons and themes, split into a "Day" and "Night" shoe, won first place during the competition. 
The Archangel Kicks website eventually improved overtime and looked much better than its original state. Above, you can see some of Michel's favorite past customs and items like the hand-stitched 'Floral" Nike Roshe Runs and the original Nike x Supreme Blazers.
This was the last event Archangel Kicks was at in Georgia before moving to Texas. The event was somewhat local and very small. There ended up only being about a dozen vendors and less than 100 people total in attendance. No shoes sold but it was still a fun time interacting with sneakerhead friends. 
Michel's Favorite Custom Creations:
The customs that started it all, the Vans Authentics 'Galaxy'. Michel started with his own personal pair because at the time, the whole 'Galaxy" theme was very stylish. When Michel discovered that many others wanted a pair, he decided to make 30 custom pairs, all numbered and unique in their own individual way.
A handful of custom sneakers came about in order to elevate the value of the shoe. This Lebron X Orange 'Digi Camo' was one of those shoes. After spending over retail to buy the pair early, Michel realized it was a poor investment. In order to pivot, Michel took a risk by making the shoe into a custom pair in hopes he could sell it at a profit. The risk paid off.
This custom Nike Foamposite 'Hades' was one of the more popular customs, being organically shared by many Sneakerheads and blogs. This custom also came about in order to create increased value from a shoe purchased far above its market value. It was made in limited numbers and led to a collection of similar designs in differing colorways.
At the time, one of Michel's ultimate sneaker grails was the Nike SB Dunk Low "Tiffany". To pay tribute to that pair, Michel created his own interpretation of the Tiffany's on the Air Jordan 4.
The Nike Roshe Run once held the sneaker community in a chokehold. Inspired by his mom's favorite roses, Michel began creating re-upholstered customs with curated fabric prints and a tedious hand-stitching technique.
This pair was by far the most difficult pair Michel ever created. It is one of the few custom pairs that still is in possession in the Archangel Archive Vault. Every black detail on the white upper of the shoe was hand-painted. Michel had to purchase a lamp/magnifying glass set in order to paint the artwork under constant magnification with an extremely fine paintbrush. It was a long and excruciating process, but the results were stunning.
Archangel Hype: The Beginnings
On January 1, 2018, ArchangelHype.com launched. This was a new chapter for the business as it aimed to provide more than just sneakers. This cemented the business in new roots as it navigated its way in the new state of Texas.
Texas. This was the first sneaker event Archangel Hype appeared at in the Lone Star State. Seen here, is the very first Sneaker Summit event in Austin during SXSW on March 17, 2018. The event was small and intimate as it was located inside of a bar. It was a great first venue to vend at in the new state.
Later that year in 2018, Archangel Hype finally got it's first official vendor spot at a SneakerCon event. This was at the Dallas SneakerCon on June 30th. It was the first big event where the company had a vendor table and it was well worth it! The first sale was a pair of Nike Off-White Vapormax Black for $600! Many custom Archangel Hype "City Box Logo" tees sold, as well as the Supreme accessories seen. The biggest sales of the show had to be two pairs of Nike Off-White Air Jordan 1 "UNC". 
Two SneakerCons in one year! This time the company made an appearance at the Houston SneakerCon on December 1st, 2018. It was a decent event for the company and it was great to meet new people. A lot of Supreme clothing sold at the show, and one attendee was very happy to cop the Supreme x Champion Satin Varsity Jacket. On feet are the Nike x Off-White Presto "White" to match the classic Archangel Hype Staff t-shirt. 
H-Town getting a back-to-back visit. On January 6th, 2019, Archangel Hype started the new year strong at Sneaker Summit Houston. A lot of great sales and relationships were made at the event. Michel had to represent the Houston vibes with a custom Archangel Hype Travis Scott "Cactus" t-shirt while rocking the Air Jordan 4 "Cactus Jack" and Air Force 1 "Travis Scott" Sail. A memorable part of the show was meeting the team from RoyalTeamSneakers from Mexico who were invited to the event. They were friendly and bought many pairs that day. Another great memory was also when Michel gifted his mother a pair of brand new Yeezy 350 V2 "Static" at the event.
Austin, Texas back at it again with another Sneaker Summit event on March 16th, 2019. For the first time, Archangel Hype incorporated portable folding risers for displaying the sneakers, which provided a lightweight and easy setup. About 75% of the inventory were Air Jordan 1s, because at the time, they were at a huge demand and the company had held on to many releases over the past months leading up to the event. Here, we see Michel rocking a custom 1 of 1 Archangel Hype t-shirt. He photoshopped the design and printed the shirt himself the night before the event. It features Archangel Michael wearing the Nike Air Max "Sean Wotherspoon", a Supreme shoulder bag, and wielding a Supreme Whiffle Ball bat. Of course, he had to pair it with his own pair of Nike Air Max "Sean Wotherspoon", which was the theme sneaker of the event.
Pictured above is Archangel Hype at Sneaker Summit's Summer 2019 Event in Houston, Texas. It was the first event where the company unveiled its latest product release, Sole Security. It was a product created to be placed on the outsoles of shoes in order to preserve their look and longevity. The product line was later rebranded as "Savior Soles" which can still be ordered by request.
SneakerCon Dallas 2019 Day One. This June 29th was the first day of a weekend long SneakerCon. Archangel Hype had been preparing for this event for months, loading up on some fire inventory. Michel was able to fly in his best friend, Nathaniel, to attend the event with him and help out with the table. It was a successful day one, and it led to an increased excitement for the next day.
SneakerCon Dallas 2019 Day Two. This June 30th was a memorable one as Archangel Hype left Dallas with much less than they had come with. Great connections were established, many deals were made, and it is an event that will forever be a defining moment for the company. Michel had the pleasure to do a meet and greet with Jaysee from Urban Necessities, get his Urban Necessities shirt autographed, and give Jaysee a custom-made Monster Energy Drink Can, designed by Michel himself. 
Keep Austin Weird...and Awesome! This was the first ever, ATX Cop N Swap, a local event put on by shops in the Austin area. While it was a small venue, the quality of the event was great and truly showed how great the City of Austin is! With only a fraction the attendance amount of other larger events, the same amount of sales occured. However, the attitudes and kindness of the attendees were fantastic. Many polite sneakerheads stopped by to chat, trade, buy and sell. It was an overall great environment and enjoyable experience. Austin represented well!
The last sneaker event of 2019; Sneaker Summit Houston on December 15th. Another great event to wrap up the year. The photo taken was well before the event start time, but the company had already sold a handful of pairs shortly after setting up. This event went very smoothly for Archangel Hype, incorporating a new company iPad for customers to easily checkout for a pleasant shopping experience. Also, the Santa hats were a fun decoration in time for the holidays.
THE BIG ONE
After a long hiatus of no shows taking place due to the COVID-19 Pandemic, Archangel Hype came back strong with SneakerCon Dallas 2021. With the sneaker market being absolutely on fire, it was the best show in the company's history. Archangel Hype brought over 300 pairs of shoes, over 100 apparel pieces, and more! After an absolutely wild and exhausting 2-Day show, the weekend concluded with 147 pairs of shoes and 87 clothing pieces being sold. The sales, experience, and connections from this show catapulted Archangel Hype to a new level.
This Cop N Swap show came the weekend immediately after the exhausting SneakerCon Dallas weekend. Archangel Hype brought its remaining inventory to the local event and continued with back-to-back shows.
The Future of Archangel Authentics 
As time progressed, Archangel Hype worked tirelessly to provide an efficient and easy way for customers to browse, shop, and learn. Between 2021 and 2022, Archangel Hype attended a handful of shows, but eventually decided to focus more time and resources on the e-commerce side of the business. Now, Archangel Authentics aims to serve enthusiasts by providing them with a trustworthy and accessible space to buy, sell, trade, and grow their passions from anywhere in the world. 
Be Your Authentic Self.